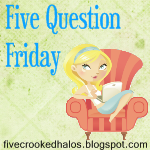 1. If you could, would you go back to high school? Yikes, this is kinda hard. Um..no. I loved high school. It was such a great experience for me but I am happy where I am now too!

2. If a genie appeared and granted you two wishes, what would they be? (And, no saying "more wishes".) Hmm.....#1 good health for my friends and family #2 successful practice for Mark when he graduates

3. What kids show do you secretly like? It doesn't have to be a secret...right now there aren't really show I watch/like since we don't have children yet. I love Disney movies though, like the classic ones that I watched as a kid. Mark and I are beginning to start our Disney DVD collection. Love it!!

4. What is your beverage of choice? Before I got pregnant I couldn't NOT go without my Diet Coke. (so I thought,lol) I don't really drink much diet drinks while pregnant. Right now I am in LOVE LOVE LOVE with Simply Lemonade.

5. What is something that you would change about yourself (or are working to change in yourself)? Well, this is kinda hard. First I would change something about my body...if we were talking about me before pregnancy then I would change my legs. I don't like them at all, I actually hate them. They haven't changed since I got pregnant so that's still top on my list.

Show Us Your Life-Money Saving Tips
1. Coupons- I used to do a lot better than I have lately with coupons. It's for sure a money saver. We used to get the big newspaper with all the coupons in Sat. night and I would shop on Sunday.
2. Turn off the ac and lights! We try to REALLY turn off lights and tv's when we aren't using them. Also unplug our phone chargers when the phone isn't plugged into it. (they say that's a big one) There have been plenty of days in the 80's but we still haven't turned on the ac!
3. We don't run the dishwashers or laundry until there is a full load. Believe it or not this helped a lot!
Happy Friday everyone!