Mark's parents have a condo in Hawaii and just got back early this week. (Too bad we couldn't go this time..I miss that place so much!) Amoung many other gifts :) they sent Wyatt a coconut from Hawaii! It's a really fun thing to do. You paint the cocomut yourself or you can buy prepainted ones. Wyatt's Aunt Kiki painted this one for him. So precious! Then all you do it take it to the post office, it comes in no package...we just opened our mailbox here in the HOT days of MO and WOW...a Hawiian coconut.
Mark and I painted them on ou honeymoon with the Hawaiin word for "Thank You" and sent them to each set of parents as a thank you for the wedding. :) So fun!!!
Thanks again Maw-Maw and Paw-Paw for the coconut. "I love it," says Wyatt!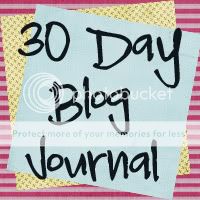 Day 4: Favorite Book
B-I-B-L-E, yes that's the book for me! It's everything a book should be!
Link up ladies....