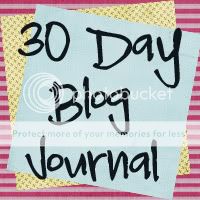 Thanks to Ashley for creating this button!
Alright ladies, just like I said...today is the day...
Day 1 of the 30 Day Blog Journal
Here is the list of topics for the next 30 days. (copied from Ecstaticaly Pregnant)
30 Day Blog Journal

Here are the topics for each day:

Day 1 (Aug. 1) - your favorite song

Day 2 - your favorite movie

Day 3 - your favorite television program

Day 4 - your favorite book

Day 5 - your favorite quote

Day 6 - 20 of my favorite things

Day 7 - a photo that makes you happy

Day 8 - a photo that makes you angry/sad

Day 9 - a photo you took

Day 10 - a photo taken over 10 years ago of you

Day 11 - a photo of you recently

Day 12 - something you are OCD about

Day 13 - a fictional book

Day 14 - a non-fictional book

Day 15 - your dream house

Day 16 - a song that makes you cry (or nearly)

Day 17 - an art piece (drawing, sculpture, painting, etc)

Day 18 - my wedding/future wedding/past wedding

Day 19 - a talent of yours

Day 20 - a hobby of yours

Day 21 - a recipe

Day 22 - a website

Day 23 - a youtube video

Day 24 - where I live

Day 25 - your day, in great detail

Day 26 - your week, in great detail

Day 27 - my worst habit

Day 28 - whats in my handbag/purse

Day 29 - hopes,dreams and plans for the next 365 days

Day 30 - a dream for the future
Day 1-favorite song:
I am not a huge music person. Well, by this I mean I don't have many favorites. I like music and love praise songs but if I had to choose....I am breaking the rules on the first day. :) What rules?!?!!?
I am picking 2:
1. "The Luckiest" by Ben Folds
This is the song Mark and I danced to at our wedding reception. Great lyrics!
2. "Sleigh Ride" by Point of Grace
I am a HUGE Christmas person. I love Christmas. I start listening to it offically on Oct. 1 (I might sneak in a few songs throughout the year, no one know about it). I love the Point of Grace Christmas album. It's amazing!
Alright...(hopefully, if this worked) LINK UP!!!