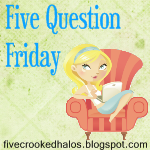 1. Do you sing out loud in the car when you're driving?
Oh ya~~~I love to sing out loud! One of my favorite things to do is roll down all the windows, blast the heat, and sing Christmas music in my car! One of my best friends from college and I used to do this and sing N'sync Happy Holidays!

2. What would you never be caught doing?
Drinking milk out of the carton, even if it's the last drop I will pour it into a glass. :)

3. Will you go #2 in a public restroom?
When ya gotta go, you gotta go!

4. Have you ever broken a bone?
Wow, where to start. When I was growing up the local orthopedics office actually offered my mom a job because we were there so much. We were active children and accident prone...to say the least. I have broken my wrist twice, a finger, prety much every toe except my big ones, and torn ligaments in my ankle which required a cast. :(

5. Do you prefer cooking or baking? What's the difference? J/K, 3 years ago I would have probably not been joking. I think I would have to go with cooking. I like to decorate baked items but am not a big fan of baking.
Now for the big debut...I have completed my 101 in 1001 List...if you are interested in reading it you can find it across the top of my page. :) I decided to start it at the beginning of April...I am already 1 day behind...LOL
It was really a great challenge to complete this list. I would suggest anyone to try to create your own. It's always great to have goals. :)
Happy Easter everyone, remember the reason for this celebration. Jesus loves you!