It's been a few days...so sorry! (mainly to Mal, I know you are a die hard reader...even though you sleep a wall away from me right now) It's 5 question Friday ladies...enjoy!!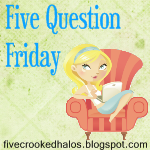 1. Who would you want to play you in a movie of your life?
I just love Jennifer Anniston or Sandra Bullock, I would like either to play me! :)

2. Did you ever go to summer camp?
Yes, I went to Camp Kanakuk. It's a Christian sports summer camp. I went with all intentions of spending a week with a friend at camp. When we got there we were seperated because of our age...on the way there I got pink eye too. My mom dropped us off and after she left they told me I had to sleep in the nurses office my first night. Then the pick eye moved to the other eye...:( I stayed there most of the week. It is a great camp but just for me..I was really really homesick and didn't go on another summer camp trip without my family.

3. What sends you running and screaming in the other direction?
SNAKES...I am terrified, no joke...I have nightmares!

4. What is something you do that drives your spouse nuts?
Sit and blog on the couch in the evenings without saying a word...LOL (that's kinda why I have been MIA)

5. What is currently your favorite song?
Yikes, this is hard. I don't really ever have favorite songs but...don't laugh I kinda like "Party in the USA" song right now...it is just a windows down music up song...I like that kind. :)


28 Weeks...and counting....

We go to the Dr. on Monday for another ultrasound...this week marks us going every 2 weeks to the Dr. :) It will make time go by so quickly...
I will do a 29 week post soon so I am not going to write this like a normal week post, just enjoy that HUGE belly. (that's all you'll look at anyway) Happy Friday