So I have so many things to blog about on Fridays...it's so fun! First I have had some time to look find some new blogs to follow, in addition to the ones I already follow. :) They all are just so cute. One of the new ones has a Friday giveaway and you can check it out
here
. She also has a cute website where she creates card, invitations, and much more! You can check out her work
here
.
Show Us Your Life-Cleaning Tips, sponsored by:
Kelly's Korner
I would consider myself a person who loves things to be neat and clean. We have 2 100lb. dogs with black hair. Ah, it gets on my nerves just talking about it. (I love them so much though) We also live on an older home that creates lots of dust. I have had the air ducts cleaned and change our filters even more than we are supposed to, with that said we have lots of dust. I am pretty sure I dust our entertainment center and our dressers EVERYDAY! I recently created my 101 in 1001 list(I will post about it soon) and I have a goal about cleaning on there. I want to create and display a weekly cleaning schedule. I am about to have twins and I think it would be beneficial if I TRIED to complete a task everyday instead of devoting an entire day to cleaning. This is going to be really hard for me though because this means my ENTIRE house won't be clean at the same time. :(
A few things I already to now..."Emily's Cleaning Tips"
I have to make a quick note: I LOVE SEVENTH GENERATION products. They are part of the "Kid-Safe Chemical Act," which means a lot for me for where I am in my life.
1. When I use something I put it away as soon as I am finished...where it goes. For example: when cooking I clean as I go, when the dryer stops I fold and put the clothes away quickly (I don't let them pile up), when we are finished with dinner we clean up and load the dishwasher
2. I try to make our bed every day. This is a habit but it feels so nice when I walk by our bedroom and see the bed made.
3. I keep cleaning towels underneath the bathroom since. When I finish getting ready each morning I do a quick wipe down.
Check out
Kelly's Korner
for some more cleaning tips. :) I can't wait until I have time to sit and read everyone's ideas.
It's that time again...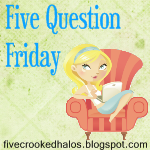 1. Did you pass your driver's test on the first try?
Yes! I passed my drivers test written and driving the first time. Now, for my attemptS at getting my motorcycle license...not so much.


2. What is your most embarrassing moment?
I really hate this question. It's that common "get to know you" question. Why? Oh well, I am passing on a question below so I have to answer this one I guess. I laugh about this now but when it first happened...yikes! This was a recent incident, like while I have been pregnant.
I had to go for normal blood work and the hospital/insurance sends that out so I had to make an appt. at a Quest. I had really bad headaches/migraines in the beginning of pregnancy so...Mark and I went to lunch and during lunch I felt a migraine coming on. I took the medicine the Dr. had given to me and finished eating. After lunch we drove to my appt. and checked in. All pregnant ladies know you have to pee in a cup EVERY time you go anywhere so I had to use the restroom but they weren't ready for me. While waiting I felt sickness coming on. Cold sweats, stomach hurting, mouth beginning to water...I knew I took the medicine before I had enough food in my stomach. Oops. I was able to tell Mark "I am going to get sick," he had trash can in my face just in time....so in the waiting room here is prego throwing up pasta and to top it all off....remember I had to use the restroom, well, I couldn't hold it while getting sick so...yup...I was that pregnant woman who threw up and peed my pants in the waiting room. WOW! It really sounds crazy, I got up and walked out. Mark took care of the rest....needless to say I made my appt. with a different location for the next day. LOL!!!!!!!

3. What TV show would you like to be on- Oprah, Biggest Loser, or What Not to Wear?
I don't feel like the "Biggest Loser" or the "What not to wear" are not my thing. I guess that leaves me with Oprah. I don't know what we would talk about, I lead a pretty normal life but out of those 3 Oprah would be my pick. :)


4. Would you ever get plastic surgery and what kind?
PASS, sorry...not sharing this answer...if I ever did get plastic surgery it would not to be "enhance" it would be to put things back how they used to be...it would be a natural look, so much so I won't be sharing. :)


5. What are your favorite jeans to wear?
Right now any jeans without an elastic waist would be AMAZING. Ha! I love my jeans from the Buckle. I have had them forever and they are the ones that are broken in and so comfy. If only I could wear them now......