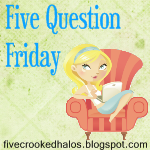 1. How much time do you spend on the computer a day?
There are days that go by that I don't get on the computer but I do still check my e-mail from my iPhone. On average I would say about an 1 to an 1 1/2 a day, total. I find myself getting on the laptop about 30

mins

. at a time.


2. Will you pay for your

children's

college or raise them to pay for their own way?
My parent's and Mark's parents both paid for our undergrad degrees. We plan to do the same for our children.

3. Have you ever been in a car accident?
Yes, more than one. I will not go into detail.

4. What is your favorite book?
Hmm

...this is tough. I love books, especially children's books. "Good Night, Good Night," is one of my favorite. I also love the adult series "Something Borrowed, Something Blue."


5. Do you make your bed everyday?
99.9% of the time (thanks mom and dad), if I don't Mark does. :) Growing up if we didn't have our beds made before dad got home from work we had to make

everyone's

bed in the house BEFORE school the next morning!!!!! (I plan to use the same rule in our house)

Happy Friday everyone. It's been a long week for me. I plan to get a

mani

today with my sister-in-law!!!

YAHOOO

!!!!! (maybe I will have some pictures to post this afternoon) Friday's Mark gets off at 2 instead of 4 so our weekend together starts early! (so exciting, I feel like I haven't seen him all week) Enjoy your weekend....it's supposed to be a rainy one here. :(