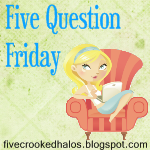 1.
What's your guilty pleasure?
This one isn't that hard for me...I LOVE getting a "snack" at the gas station. If I have to pay with cash there is NOTHING that stops me from getting something from inside. Candy, chips and a drink sometimes....yikes I know!

2. What is your favorite TV series?
In general I don't watch much TV but there are a few TV series Mark and I

DVR

every week and watch together. Lately, due to his studying, the hour these shows take are the only time I get to spend with him. (I will take what I can get) Here is our weekly line up...

Monday night:House and

CSI

Miami
Tuesday night: NOTHING
Wednesday:

CSI

New York
Thursday:

CSI

Las

Vegas and Mentalist

3. Can you speak any foreign languages?
I took French in high school but could not even say 1 word anymore!

4. How many pairs of shoes do you own?
I am on the couch and not getting up. I own a lot of shoes. :) I asked Mark and he said "more than 30..."

LOL



5. What's your favorite kind of M&M's...peanut, almond, straight up regular, etc.?
This is a tough one, I really love peanut and if they still made crispy that would be my favorite for sure but I have to go with the traditional reg. M&M's! (I love the new dark choc. ones) Can you tell I have been craving sweets throughout this pregnancy?!?!