This week flew by! I can't believe it's already Friday again. I worked a lot this week, well a lot for me...and I guess that made it go by quicker! I am looking forward to tonight so much, I got off work early and Mark is home, it's B-E-A-
Utiful
outside. Since I got home early I was able to clean up around the house, open some windows, and start on some projects. :) Don't worry, I will upload pictures soon, it's a secret....but now it's time for: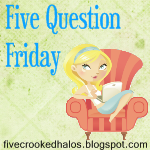 1
.
Have you ever had a celeb sighting?
Nope, :(

2. What temperature do you keep your house?
When we moved in a little over a year neither Mark or I had ever "controlled a thermostat." I have found the settings are different depending on who pays the bill. (

LOL

, that's for your dad) After a few months we found a comfortable temp. Usually the temp in our house is 66-68 degrees, that's throughout the mild winter/early springtime. We have an attic fan so it will be turned off most of spring. :)

3. Do you notice dust at other peoples homes?
I hate admitting it but....yes. Please don't feel like I judge you if you have dust, I ALWAYS have dust but if I am honest, I notice others dust too!


4. What's the worst job you ever had?
I can't say it's the worst job I ever had but that's because it's over. While I was going to work everyday HATING life it was the worst job I ever had. My first year teaching was at a Charter school in the inner city, not a good area. I grew up in small town USA, and LOVED it!! (still do!) It was a culture shock for me to move to St. Louis much less teach in the downtown area. I made a few friends throughout training and thought everything was great! By the 8

th

day one of them had quit and by Christmas break the other was gone. I made it to the end of the year...thanks to lots of prayers, my mom, husband, and God! I look back and I learned so much that first year of teaching. I experienced things some teachers will NEVER experience. Now that it's over I know God had a plan!

5. What is your most sentimental possession?
Yikes, this is hard! I have 2...sorry, couldn't decide.
#1. My scrapbooks: You'll are going to think I am such a nerd but too bad. I started scrap-booking in 7

th

grade. :) I have scrap-booked each year Mark and I have been together. My pictures are something I keep VERY organized and up-to date. (Some of you may be laughing at me saying "Good luck with that," as I am expecting twins but I already have a plan) Last year I started scrap-booking the Creative Memories pic-folio albums and LOVE them! I have also started the Kodak albums you create through their website and then can order multiple copies! I plan to use both of those types with the boys. I have already started this years book...and am UP-TO DATE all you people who were laughing. :) I have the past years book sitting in our living room for people to look at but for the most part I have all the others in a safe place. If I could afford a fire-proof bookcase I would buy one! (if they even make them) I have all the books stored together in case I ever have to grab them and run.

LOL

, I know, such a nerd.
#2. My wedding ring (tangible and tattoo): I know this may sound materialistic but I love it! As much as I like change this is one thing I love and have NOT even thought about changing it! On our honeymoon Mark and I had our wedding bands tattooed so underneath my ring is a PERMANENT ring. To us a marriage is forever, I can never "go with my ring" or even "forget my ring" and I love it!