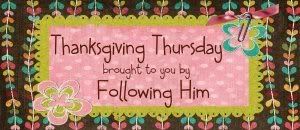 I saw this cute Thursday idea on another blog and joined the fun! Mark and I have so much to be thankful for...my list could go on forever but I tried to keep it short and sweet.
1. I am so thankful God has provided for us, more than we EVER could have imagined at a rough spot in our lives.
2. I am so thankful I didn't have any problems getting pregnant. (Once again, God knew my OCD planning and his plan weren't working together, he took matters into his own hands and...ta-da...unexpected twins it is...and WE LOVE IT!)
3. I am so thankful for an amazing husband. Cliche, I know but I didn't think it could be any better since the day we said "I do," boy was I wrong...he has been THE BEST since the second the pregnancy test was +positive+. I can't wait to see him as a dad! :)
4. I am also thankful for my family. They are so supportive and ALWAYS there for me. I LOVE that I talk to my mom on the phone EVERYDAY! I look forward to hearing her voice.
5. I am thankful for my relationship with Jesus Christ. I find it hard to trust him some days but he always sends me a reminder he is there!
That sums up my "Thankful Thursday." I have many more but they will wait until next Thursday. My OCD makes me stop at 5 or go to 10 so...stopping at 5 it is! So until the next "Thankful Thursday..." :)