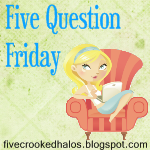 1. Do you sing karaoke? If so, what is your go to song?
No, I don't sing karaoke. To be honest I am a terrible singer...but I love to do it! Right now I really love "Party in the USA," but if my sister reads this I couldn't go without saying what I would give to be able to sing the national anthem. :) (Love ya sista!)
2. What is your favorite coffee drink?
Starbucks Skinny Vanilla Latte, no whip
3. If you could choose your own name, what would it be?
I don't think I would change my name but I have always joked about spelling it different. LOL It doesn't make sense but I think it would neat to spell it "M-A Lee" (dumb, I know) or I like the way "Emilie" looks too!
4. Were you ever bullied?
Nope!
5. How often do you eat fast food?
I can't disclose that information right now. :)
~Collections~

When Kelly decided to do "collections" I immediately knew what I would do. As I child I collected key chains. Now...it's a good thing I am an organized person and know exactly where to find all the "Emily's Childhood Boxes." :) I hope you enjoy this post, I had fun looking back into my collection and Mark really thought I was a nerd.